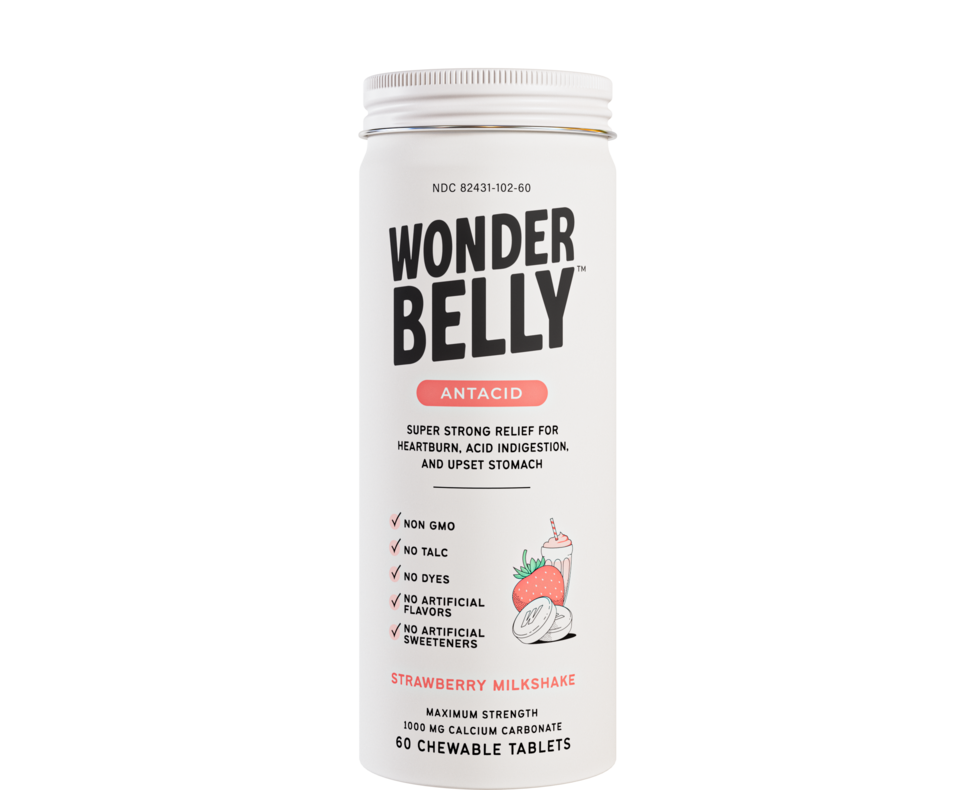 Heartburn is tough.
Finding a clean, tasty and sustainable antacid to soothe it is tougher.
A maximum strength (1000mg calcium carbonate), instant relief antacid for heartburn, acid indigestion and upset stomach.
TRY WONDERBELLY
Heartburn is tough. What's tougher is finding clean and healthy medication to deal with it. Your antacid should not:
Contain junk ingredients like TALC, Titanium Dioxide,
and Food Colorings
Taste like chalk and kill your appetite further more
Be packaged in plastic that becomes bad turtle food
Instead we took Wonderbelly antacids to the next level:
"Tastes like drain cleaner smells"
Strawberry Milkshake
Or a Handful of Chalk?
Wonderbelly's unique flavors are formulated to be enjoyable and delicious, so you can get rid of heartburn without leaving a bad taste in your mouth.
Chew 2 to 3 tablets whenever heartburn, acid indigestion, or upset stomach symptoms occur.
"Finally, a better antacid that tastes good."
Better Ingredients
To Sooth Your Stomach
We say NO to all the bad stuff
TRY WONDERBELLY
Try Wonderbelly Risk Free - Satisfaction Guaranteed
Wonderbelly's bottles are made entirely of aluminum so they are 100% plastic-free and infinitely recyclable. Who knows, after you've recycled it, your bottle could become a can of seltzer or a tin of peaches one day. Dream big, bottle. Dream big.
Ready To Make The Switch?
Try Wonderbelly Risk Free. Not impressed? We'll pick up the tab!
Our Strawberry milkshake (1000mg Calcium Carbonate) maximum strength tastes like strawberries blended into your favorite sweet vanilla ice cream, topped with a dollop of whipped cream.
Here's What Our Customers Are Saying
I'm HOOKED!
After 4 days, Strawberry Milkshake has already banished my heartburn issues. I have become so accustomed to that icky feeling that I forgot what it was like to feel heartburn relief! I've already ordered another WonderBelly variety pack. I'm HOOKED!
Much Better Option!!
I'm so glad there's a better-for-you antacid option now! I've been using Tums for years and when I hit 30, it felt like I was needing them all the time. Me and my friends felt much better about taking Wonderbelly (quite a few of us have stomach issues, love that for us), vs Tums and some of the other options on the market. Great product – worked as advertised and was definitely a better/cleaner option! I will definitely reach for Wonderbelly moving forward.
Hated TUMS But Had Reflux...TGFWonderbelly
Never had issues until recently (getting old) but when i used TUMS i decided I would just deal with it bc of the consistency and taste. Tried all 3 flavors and tbh, I like them all! Well done, appreciate the help!
Hi y'all!
I'm Lucas, co-founder of Wonderbelly. I struggled with bulimia for over 10 years which resulted in a pretty problematic digestive including a condition called GERD which is basically chronic acid reflux and heartburn.
I've tried everything to from dramatic lifestyle changes, supplements and holistic remedies to try and soothe my GERD symptoms but at the end of the day, it was pharmaceutical products like TUMS and Zantac that were the most effective.
Even though I never fully enjoyed the taste of TUMS, it got the job done. However, after a recall of the medication, Zantac, due to a carcinogenic ingredient, I ended up looking at the back of my TUMS bottles as well and noticed they contained ingredients like talc, titanium dioxide, polyparabens, artificial sweeteners and endless amounts of dyes. I was familiar with those ingredients and their reputations so I had no interest in putting them into my body. So I put together a team of top knotch pharmaceutical professionals, gastroenterologist and came up with Wonderbelly.
The goal was to create an equally effective product as TUMS by using the same active ingredient but eliminate the unnecessary stuff like talc, artificial dyes, artificial flavors, parabens and titanium dioxide. While we were at it, we decided to improve the taste, make it less chalky and put it in 100% plastic-free packaging. If we were going to make a change for the better, we wanted it to be in every aspect.
TRY WONDERBELLY