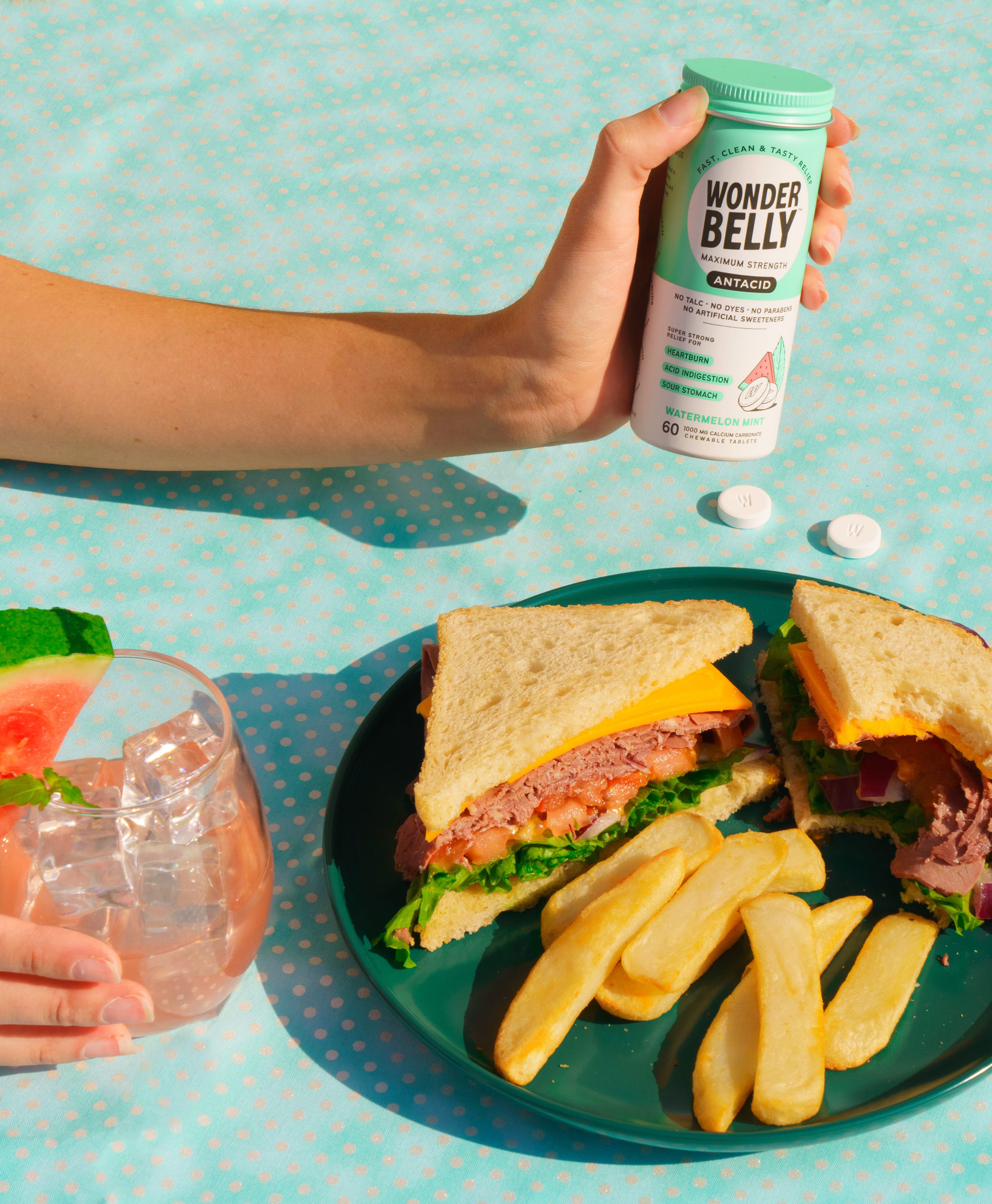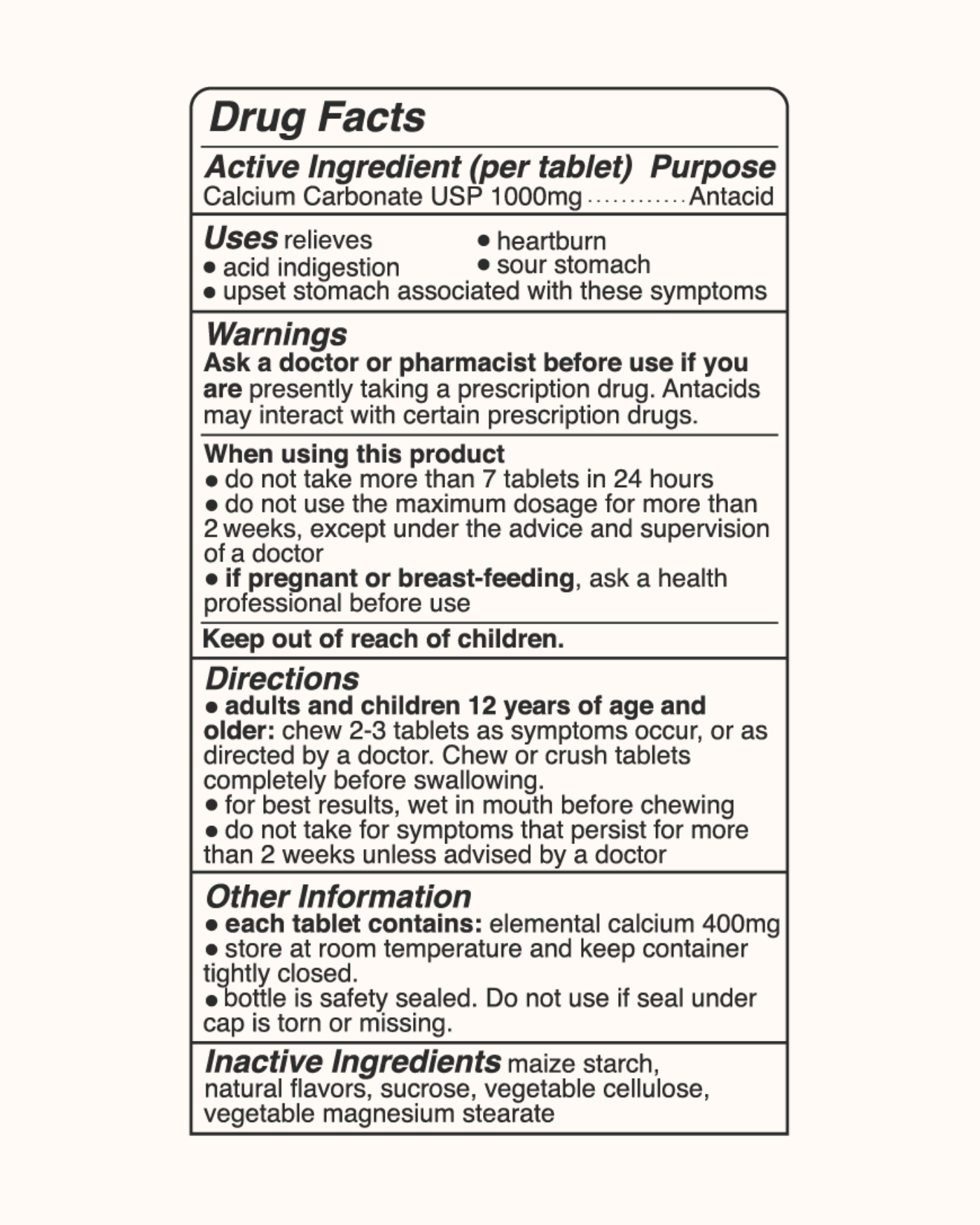 Fast, Clean and Tasty Relief
Watermelon Mint
Watermelon Mint
Juicy, ripe watermelon fused with minty freshness.
Watermelon Mint

Provides maximum strength, instant relief from heartburn, acid indigestion and upset stomach related to these symptoms.

What does it taste like? Mouth-watering, fresh watermelon combined with a cool mint finish. It's perfect for all occasions, especially after hot sauce or onion rings.

Adults and children 12 years of age and older: Chew 2 to 3 tablets whenever heartburn, acid indigestion, or upset stomach symptoms occur or as directed by a doctor. Chew tablets completely before swallowing.

CALCIUM CARBONATE

Naturally mined from limestone and always pharmaceutical grade. This is our active ingredient. Calcium Carbonate is the same active ingredient used in the leading antacids and is highly effective in neutralizing stomach acid and relieving heartburn and acid reflux symptoms.

VEGETABLE CELLULOSE

Produced from non-GMO purified wood pulp cellulose. As a binder, it helps keep the tablet compressed and intact. As a diluent, it improves the content uniformity of the active ingredient.

NATURAL FLAVORS

Produced from non-GMO natural flavoring and used to give taste and aroma to the tablets.

VEGETABLE STEARATE

Derived from non-GMO edible vegetable sources. It acts as a lubricant to aid the manufacturing process and ensure that the tablet can be compressed without cracking or breakage.

CORN STARCH

Produced from non-GMO corn. As a binder, it keeps the tablet compressed and intact. As a disintegrant, it helps the tablet break apart easily when chewed and disintegrate faster when swallowed.

SUCROSE

Produced from non-GMO sugar cane. We use this ingredient to sweeten the tablet and give it texture.



View full details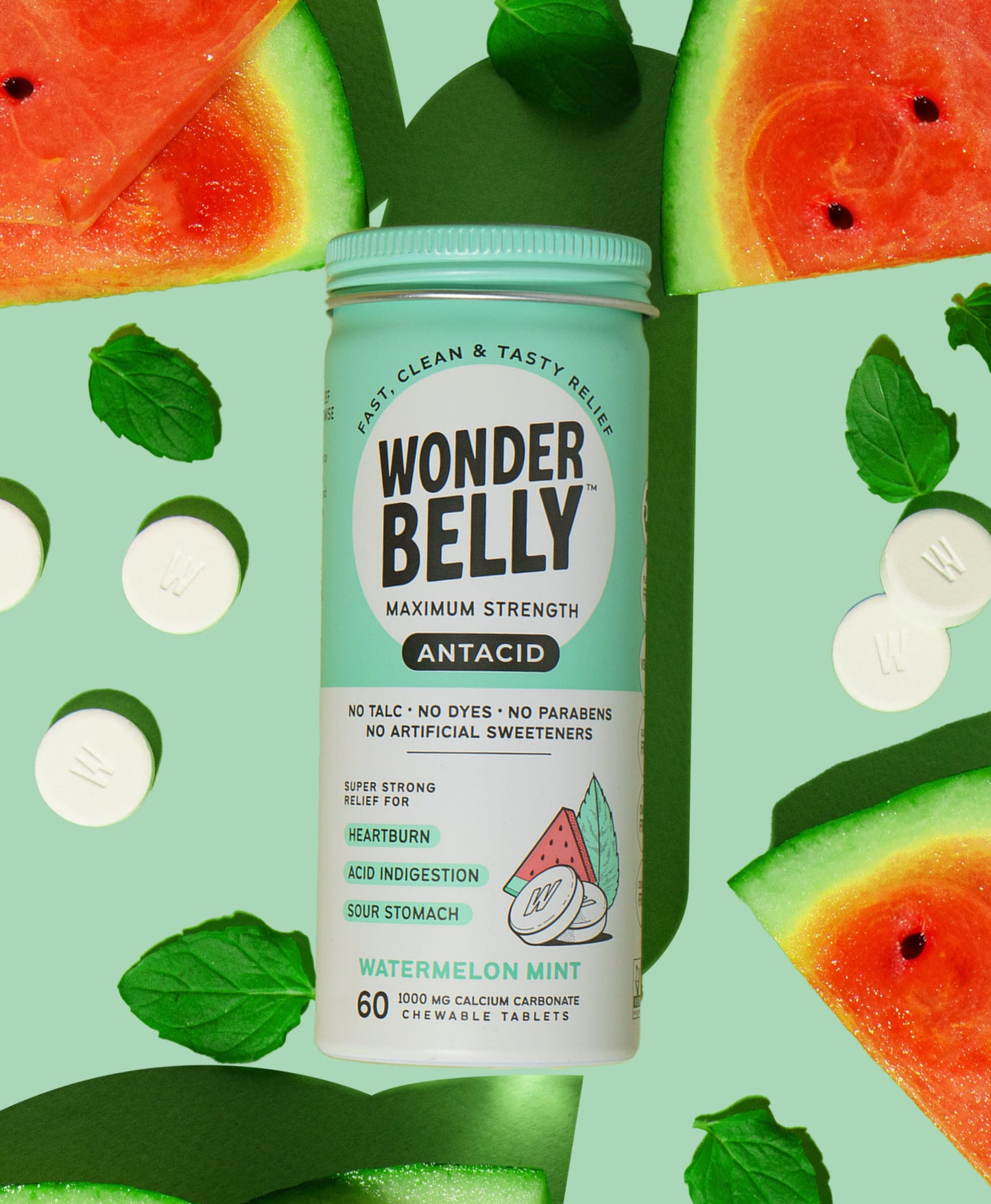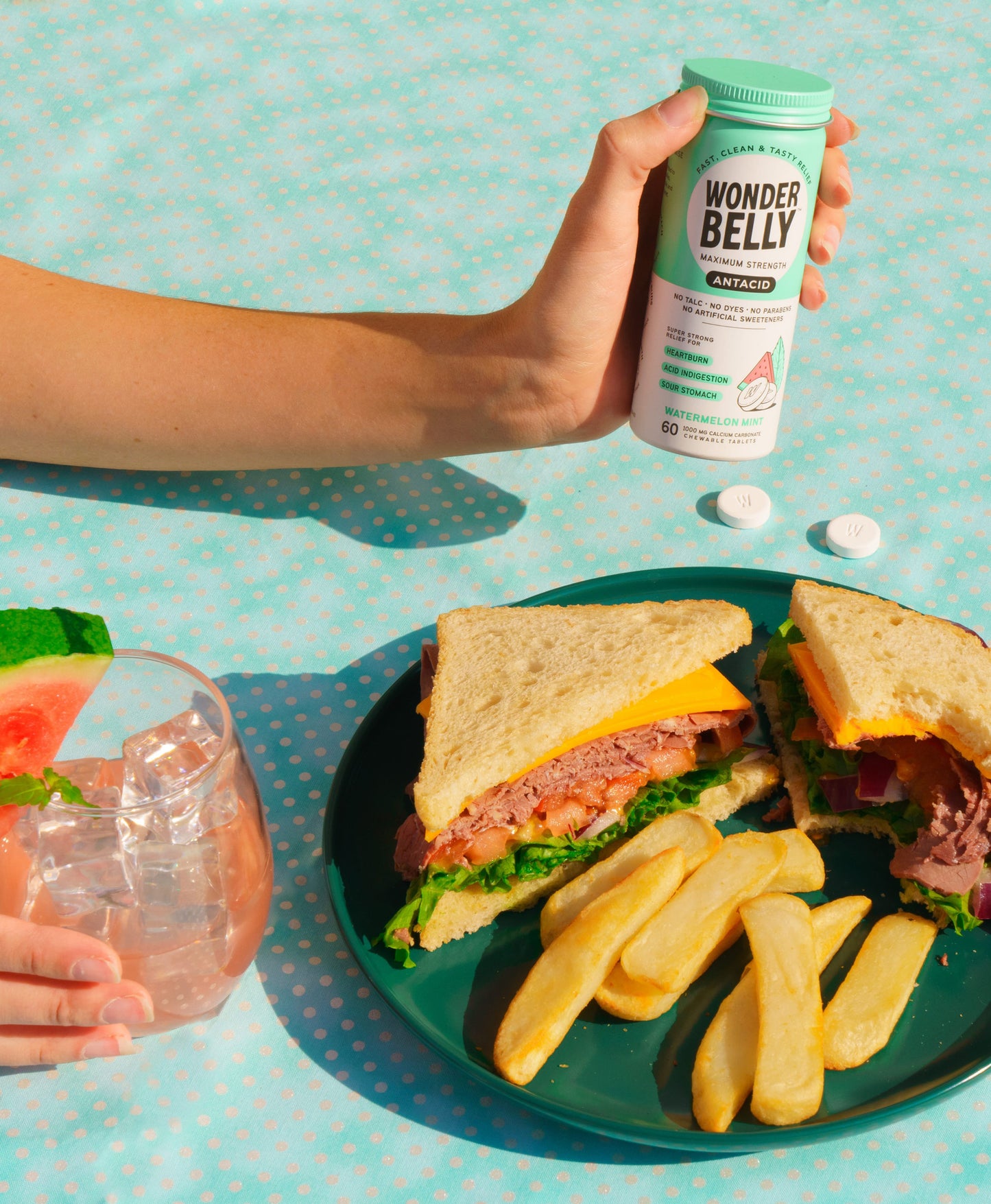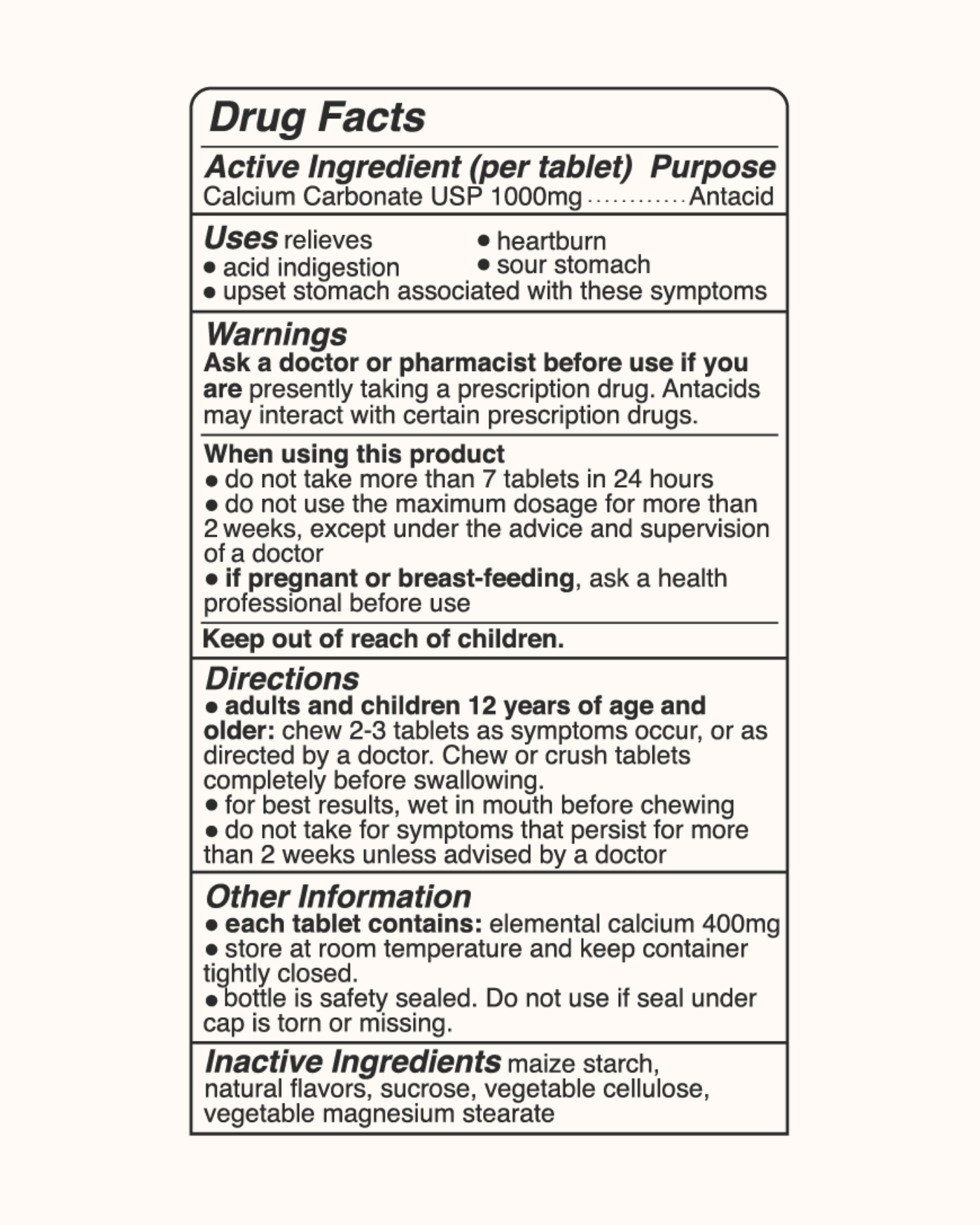 Fast, Clean and Tasty Relief
We choose our ingredients carefully.
Wonderbelly Ingredients
Calcium Carbonate
Natural Flavors
Vegetable Cellulose
Vegetable Stearate
Corn Starch
Sucrose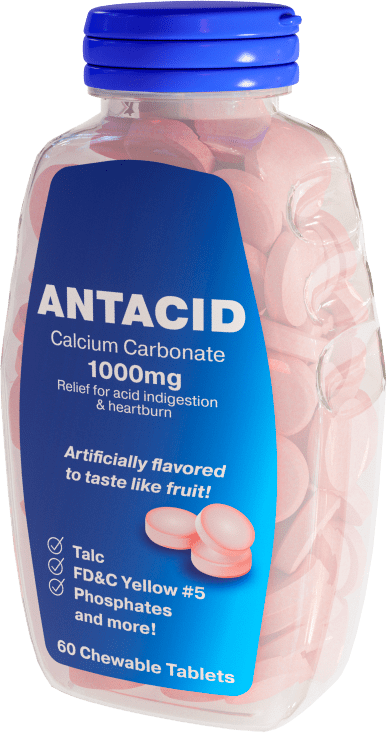 Other Antacid Ingredients
Talc
Propylparaben
Acesulfame K
FD&C Yellow #5 Aluminum Lake
Sucralose
Titanium Dioxide
Ammonium Hydroxide
Methylparaben
N-butyl Alcohol
Ethyl Acetate
Corn Syrup Solids
Tert-butylhydroquinone (TBHQ)
Polyvinylpyrrolidone (PVP)
FAQ
Will Wonderbelly Antacid work for me?
Wonderbelly Antacid's active ingredient is calcium carbonate. Calcium carbonate is an antacid that can relieve heartburn, acid indigestion, sour stomach, and upset stomach associated with these symptoms and is found in many of the leading brands on the market such as Tums, Rolaids, and Alka-Seltzer. If you are experiencing other symptoms or your symptoms persist for more than two weeks, you should consult with your doctor or pharmacist to determine the appropriate treatment option.
What makes Wonderbelly unique?
Wonderbelly is unique in a few ways. Medicine has typically disregarded experience for efficacy. Meaning, if it works, it doesn't matter how it tastes or how easy it is to swallow. For us, we didn't want to compromise. We wanted to make sure we had the exact same effectiveness as the proven antacids that already existed while using clean ingredients and making the flavors so delicious that relief could be enjoyable. Beyond that, while we were at it, we saw an amazing opportunity to bring sustainability into the OTC aisle by making our bottle plastic free.
How is Wonderbelly different from other acid indigestion solutions?
Wonderbelly uses the same active ingredients as the leading brands. We are committed to using excipients that meet our internal standard and are non-GMO and plastic-free.
Spill Your Guts
Join us as we talk about the hard sh*t